Monday, June 01, 2020
By An Old Friend

Mon, Jun 1, 2020 2:20 a.m.

Comment highlights at a

PowerLine

post
In the article, Paul Mirengoff eviscerates a profoundly stupid WaPo sportswriter (female) who tries to make some argument about the knee on the guy's neck in Minneapolis and washed-up quarterback and contemptible prima donna Colin Kaepernick "taking a knee" during the national anthem. If you're interested, use the link above.
What I really like are the several comments below:
Nevyan
•
Kapernick is like herpes -- every so often it flares up and is painfully noticeable for awhile.
Colonel Travis

•

How come the dumbest people rise to the top in this country?
One commenter asked an embarrassingly basic question -- embarrassing, that is, that I didn't think of it myself!
Napoleon Trombonopart
•
I know this is off topic, but someone please explain to me,why would White Supremacists be protesting the death of a black guy???
Also, the Babylon Bee weighed in:
Rioters Decline To Sign Colin Kaepernick
May 29th, 2020
MINNEAPOLIS, MN—Colin Kaepernick arrived at the Minneapolis riots last night, saying he was excited to be a part of the looting and violence.
Kaepernick tried out for the riots by throwing bricks into windows but missed every time. He was able to rush a Molotov cocktail into a target window and then spike it on the ground, but then he caught fire. Finally, in a last-ditch effort to get selected for one of the riot squads, he filmed a workout video and sent it to various protester organizations but hadn't heard back as of publishing time.
"While we appreciate Kaepernick's enthusiasm, we need someone who can lob a Molotov cocktail accurately," said a representative for the rioters. "We wish him the best of luck in his future rioting career. We believe Kaepernick will land on his feet with another rioting organization. Maybe Chicago or Louisville will want him."
The former quarterback quickly blamed his failed rioting career on racism.
Sunday, May 31, 2020
By R.C.
Sun, May 31, 2020 4:05 p.m.
Black Federal Protective Services Officer Killed in Oakland Identified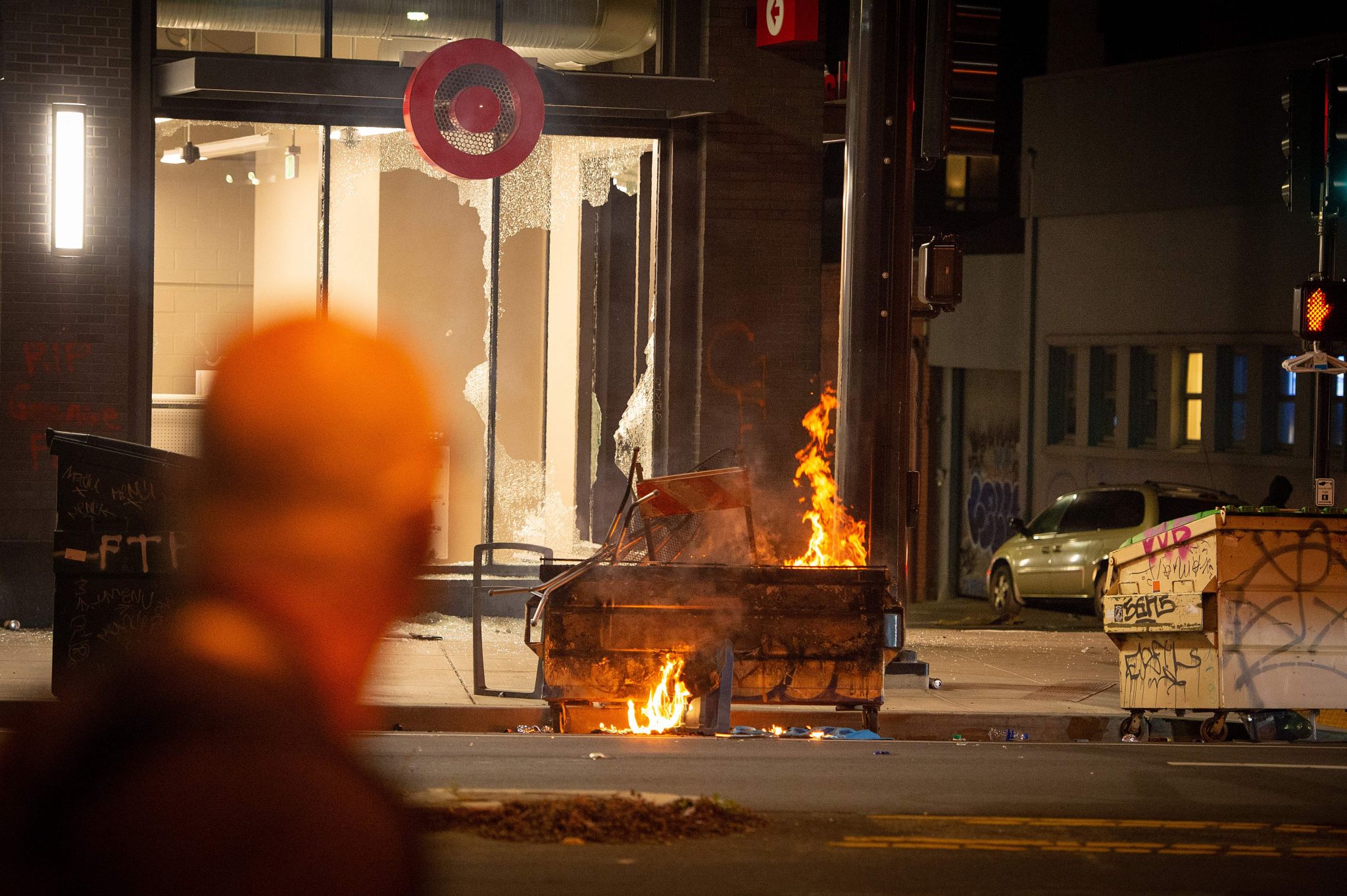 "Federal Protective Services officer shot and killed in Oakland, FBI says" - SFGate
A Federal Protective Services officer was shot and killed Friday night, the FBI reports, as protests and riots [!] took place in the city of Oakland.
www.sfgate.com
"Angela Underwood Jacobs for Congress" - Home | Facebook
Angela Underwood Jacobs for Congress November 18, 2019 · I launched this campaign for the right reasons but with the resignation of Hill, this race has become a new type of campaign — a campaign that Congressman Knight has decided to re-enter.
www.facebook.com
By "W"
Sun, May 31, 2020 12:42 p.m.

Congoids Loot Nike Store in Chicago; Apple Store in D.C., etc.

https://www.rt.com/sport/490312-nike-riots-store-looted-video/

Video of looting Apple store in downtown D.C.:

https://www.rt.com/usa/490310-apple-store-dc-looted/

This is making the rounds: white guy beaten to [death] a pulp trying to defend a store in Dallas with a sword, not a gun:

https://www.rt.com/usa/490322-dallas-man-attacked-sword/

And some are blaming Putin for the Congoid riots:

https://www.rt.com/usa/490191-minneapolis-putin-russian-meddling/



By R.C.

Sat, May 30, 2020 7:25 p.m.

Atlanta Mayor: "This is not a protest, this is chaos"


By A Texas Reader

Sat, May 30, 2020 8:38 p.m.
Lawmakers, Business Leaders Flood DHS with Dissent on Revoking Work Authorization for Immigrant Spouses


HOUSTON – Living in limbo is a continued in-depth series by KPRC 2 that delves into the challenges faced by hundreds of thousands of Indian women in the United States who stand to lose work ...

www.click2houston.com
By R.C.

Sat, May 30, 2020 8:28 p.m.

Somali Rioters Call for the Release of Killer Cop Mohamed Noor on CNN (VIDEO)


Somali American police officer Mohamed Noor shot Aussie Justine Damond in July 2017. Damond called the police to report a possible assault down the alley behind her home. When she went out to meet the police car in her pajamas Noor reached over his partner and shot her dead. Mohamed was the first Somali officer…

www.thegatewaypundit.com
By R.C.

Sat, May 30, 2020 8:48 p.m.
Utah Calls in National Guard, Declares Curfew as Salt Lake City Protests Spiral Out of Control


Utah calls in National Guard, declares curfew as Salt Lake City protests spiral out of control

www.rt.com
By "W"
Sat, May 30, 2020 9:07 p.m.

Protesters Observe Social Distancing

"W": Well, Praise Jesus for That!

https://www.wusa9.com/article/news/local/dc/george-floyd-protest-dc-white-house-capitol-hill-trump-hotel-highways/65-54c61594-cef6-40d8-9e14-b57adc026d5e



By R.C.

Sat, May 30, 2020 10:59 p.m.
NYPD isn't Having It Anymore! Police Cruisers Charge through Violent Mob, Send People Flying Like Rag Dolls (VIDEO)


NYPD is fed up with violent mob rioters. Violent far left terrorists surrounded two police cruisers and began throwing objects at the vehicles. The cops asserted their power as the mob pounded on the windows and charged right through the violent mob sending people flying like rag dolls. WATCH: The NYPD isn't having it any…

www.thegatewaypundit.com
R.C.: Is this a great country or what?
Where is Mayor De Blah Blah Blah and his lesbo Negress spouse?
N.S.: I'll bet the cop-drivers were non-whites. They aren't obliged to be human punching bags.
By A Texas Reader
Sat, May 30, 2020 11:43 p.m.

A Mob of Rioters Just Murdered a Man in Cold Blood in Dallas. He was Defending His Store.

https://twitter.com/RealSaavedra/status/1266930007399518209?ref_src=twsrc%5Etfw%7Ctwcamp%5Eembeddedtimeline%7Ctwterm%5Eprofile%3Avdare&ref_url=https%3A%2F%2Fvdare.com%2F



Re-posted by Nicholas Stix

29,457 views
•Jul 14, 2017



C-SPAN
539K subscribers
From Detroit on Sunday, July 23rd at 11:30pm & 4:00pm ET on C-SPAN3.https://www.c-span.org/series/?ahtv




Saturday, May 30, 2020
"Violent protesters charged a Brooklyn police precinct on Friday, May 29, 2020,
on a day when thousands of fed up New Yorkers hit the streets to protest police brutality, and stand up for George Floyd
, who was killed by Minneapolis police. Police rushed reinforcements to the 88th Precinct in Clinton Hill, where early reports said windows were broken and some shots were fired."
Daily News story
.
By Prince George's County Ex-Pat

Sat, May 30, 2020 5:03 p.m.

There is a $19,000 reward available for information leading to the arrest of the man wanted for shooting a Baltimore police officer on Tuesday.


There is a $19,000 reward available for information leading to the arrest of the man wanted for shooting a Baltimore police officer on Tuesday. Police said the reward is backed by the Bureau of ...

www.wbal.com
PGCE-P: Because black lives matter.
By Prince George's County Ex-Pat

Sat, May 30, 2020 4:55 p.m.

BALTIMORE: Black Woman Punches Police Officer Twice in the Face — Gets Knocked out in Street (VIDEO)


A woman in Baltimore on Friday night punched a police officer twice in the face. The officer did not see it coming. Don't think she was expecting to get clocked in the head from behind… She may think twice next time. A woman in Baltimore just punched a cop in the face twice. Don't think…

www.thegatewaypundit.com
PGCE-P: Charm City is really charming this weekend.