Thursday, January 31, 2019
Thu, Jan 31, 2019 8:53 pm
Through her social media, in which she used the moniker "Pretty Hoe" and described herself as "the most hated hoe in L.A.," Williams posted video that showed her beating young women and threatening them with guns, officials said.
So, I guess this hoe will be somebody's bitch in prison.
Wednesday, January 30, 2019
Wed, Jan 30, 2019 8:37 p.m.
El Paso rapper T. Kizer Tha Dummy killed in Northeast shooting had budding music career
Nice hagiography.
They're always "aspiring rappers."
Wed, Jan 30, 2019 8:40 pm
Undocumented immigrant with history of sexually abusing children arrested in Montgomery County


Wed, Jan 30, 2019 9:47 p.m.
Federal agents used a fake university in Farmington Hills to lure alleged phony foreign students who were trying to stay in the United States illegally.
I thought Harvard was the fake university.
By Nicholas Stix
May 4, 2000 (?)

I am not a religious man, and yet I feel blessed. I got off a plane from then-West Germany at Kennedy Airport on August 26, 1985, less than seven months after John O'Connor had been promoted from bishop of Scranton to archbishop of New York. And during the past 15 years, Cardinal O'Connor has been perhaps the only unambiguously good thing about this dark, soulless place. That's "was," because as of 8:15 p.m. last night, John Cardinal O'Connor is no more.

Everyone could see it coming — first the brain tumor, and then after "treatment," the increasing frailness, and the informal yet unmistakable goodbye of his recent public letter. Over a month ago, I had told my wife that I would write a letter to the cardinal, one that one of his assistants might read to him, as he could no longer see. But the letter did not write itself, and I didn't write it, either.

I never met or spoke with, or corresponded with the man, and I have rarely felt a bond with, much less love for a public figure. And yet, I loved John Cardinal O'Connor. The bond was surely based on our commonalities: I'm a Jew and an agnostic, and he was a conservative Catholic fighter for the faith.

In the encomium-filled days to come, we must remember that this was a man whom Gloria Steinem described as one of the two worst things about New York, the other being AIDS.

But Gloria was an amateur, compared to SCREW magazine publisher, Al Goldstein. SCREW, for those of you unfamiliar with it, is a New York magazine that advertises prostitutes of all persuasions. I was looking not for love, but for money in the all the wrong places, seeking to sell ad space to some of the working girls for a non-sex- oriented publication whose entire profit margin was based on such ads. It turned out that the working girls were the world's toughest sell. They were used to screwing people over, not to getting screwed.

In the midst of this er, publication, what should I see, but a huge photograph of the cardinal? Publisher Al Goldstein — I'm sure the words were his own — had put a fictional monologue into the cardinal's mouth, something like, "After I've finished screwing an altar boy ... nothing gives me more pleasure than to run out to the street, and pick up the newest issue of SCREW.

Goldstein was obviously imitating Hustler magazine publisher Larry Flynt, who had once committed a notorious attack on the Rev. Jerry Falwell that landed him in court.

In an age of hype, it sounds banal to call Goldstein's act an "outrage." Indeed, what once became a First Amendment case that made it all the way to the Supreme Court, had by the end of the millennium become a commonplace unworthy of note. But this sort of attack was exactly what the word "outrage" was meant to apply to!

And yet, there was a perverse honor to the business. Al Goldstein had concentrated his sexual obsessions not on some prissy feminist who had slept her way to success, but on a man who bestrode New York like a collossus. Nietzsche liked to say, "Viele Feinde, viel Ehr.'" "Many enemies, much honor." But unlike so many little, public people — celebrities, we call them — who live off the limelight, but cry boohoo, or sue or slug their critics, O'Connor was the kind of happy warrior who in an earlier age would have been called a hero. And whom I revere as a hero.

The cardinal ignored the pornographer to death.

O'Connor was always going into harm's way, whether as a Navy chaplain for 27 years in Korea and Vietnam (he retired a rear admiral), or in New York with his stands against abortion, homosexuality, and the death penalty, and for more social programs. In all of the preceding cases, he was following church teachings, something that the most vocal religious, and even bishops, seemed to have utterly forgotten. If Reform Judaism long consisted (though not necessarily at the moment) of nothing but Enlightenment atheism plus matzo brei, many leaders of the Church of St. Peter seem to be Reform Jews, but without the matzo brei.

The cardinal's most amazing personal characteristic was, that he didn't hate his enemies. He didn't hate homosexuals, he loved them, as brothers and sisters in Christ. He prayed for them, and asked them to pray for him, in turn. Had he hated them, he could have, would have (and I think, should have!) had them dealt with very harshly by New York's Finest, during activists' frequent trespasses into St. Patrick's Cathedral. The activists were fond of desecrating the Host (stomping on communion wafers), and engaging in other obscene acts that you didn't have to be a Catholic to abhor.

Recall too, that the NYPD is still a majority Catholic force — all those Irishmen and Italians and Puerto Ricans. They would have done the right thing, had the cardinal asked them to. Unlike his predecessor, Terence Cardinal Cooke, John Cardinal O'Connor not only met with gay activists, but made a point of shaking their hands, which Cooke's secretary had pointedly refused to do, when he had met with them years earlier. And no gay activist — or anyone else — came close to what the cardinal did for AIDS patients, ministering to them in their last days, in church-run hospices.

I hadn't known that he had a Ph.D. in political science, but I don't hold it against him. O'Connor was so smart, you wouldn't know that he'd spent so many years in academia. He had the sort of vital intellect that permitted him to quip spontaneously on the street, and not only let gut feelings enter into his thinking, which we all do, but do so openly.

While writing on the cardinal, journalist Nat Hentoff, a Jewish atheist who opposes abortion, developed a lasting friendship with him. Hentoff called Cardinal O'Connor, "the Genghis Khan of the Catholic Church." However, in 1987, Hentoff crossed swords with his friend. After it had come out that sitting Austrian President and former UN Secretary General Kurt Waldheim had in fact been a Nazi, Pope John Paul II had given Waldheim a private audience at the Vatican. A livid Hentoff brought out the brickbats in his Village Voice column. In the second volume of his autobiography, Speaking Freely (the first volume was called, Boston Boy), Hentoff quoted from the personal letter O'Connor had sent him, in response:

"'Dear Nat,

"'Your Village Voice article disappointed me, not because of your criticism of the Waldheim-Pope episode, which was arguably criticizable, or your judging my remarks meaningless (although I would obviously prefer flagellation to being considered meaningless). Your article disappointed me because you cheapened it by including a shotgun attack on the Church .... beating the Pope over the head and shoulders for every conceivable offense (at least you didn't berate him for being Polish), and generally clouding your thesis with a squid-like venom quite uncharacteristic of your normal writing.

"'By way of your own account, I was aware of and sincerely pained by what you suffered at the hands of Catholics as the Boston Boy. In that account your sufferings were no less real and moved me to no less sadness because you chose to recount them in and with good humor. Whatever the demerits of the Waldheim-Pope affair, your relating it to your childhood came through to me as more vendetta than pain. Again uncharacteristic of your writing....

"'You are a good man, a good friend, a good writer, and quite possibly a better Jew than you may have realized. I believe you missed a useful opportunity, and for that I'm sorry."

Hentoff commented, "As angry as the cardinal had become, I was angrier. I had just begun to write a column for the Voice that would fully, fairly, and nastily focus that anger on O'Connor when another letter from him came. It was short: 'Now that I have won that argument, let us proceed. You may recall how Belloc ends his Path to Rome: "So let us love one another and laugh. Time passes and we shall soon laugh no longer. Meanwhile, earnest men are at siege upon us all around. So let us laugh and suffer absurdities, for that is only to suffer one another.

Hentoff confessed, "I couldn't help laughing at the boldness of his strategy of reconciliation, and I didn't write a column answering his first letter.

Bold yet gentle, combative yet conciliatory. Those were but a few of the sides of the giant no longer in our midst. I don't know how I'm going to swing this, but in memory of John Cardinal O'Connor, I am going to try and not give in to the hatred that I so often feel towards my enemies.
Rest in peace.

Originally published in Toogood Reports.



"Password change required": Please Help Me Fight Censorship; Support
WEJB/NSU
!
At 9:35 p.m. tonight, one of the apparatchiki at Twitter saw that I was working too hard, trying to build my follower base, and decided to throw a monkey wrench into my progress, with the following fake message:
Password change required
Nicholas Stix
@NicholasStix
What happened?
We have detected unusual activity on your account. For your security, your account has been locked until you change your password.
What can you do:
To secure your account, please change your password before logging back in.
Start
Twitter pulls this stunt so often that I had already forgotten my password weeks ago, such that when I was out of town recently and had to use hotel computers (which blocked access to
WEJB/NSU
, due to my notoriety), I couldn't access my Twitter account.
At one point, I was permablocked at Twitter for 14-16 months. (I can't recall the exact period, because Twitter and Facebook both permablocked me two months apart, in February and April 2017, respectively. I'm still blocked at Facebook, almost two years later.)
I've fought censorship for over 30 years. Back in the early 1990s, I even defended black supremacist Leonard Jeffries' First Amendment rights.
Please hit the PayPal "donate" button at the top of the page, and make a generous contribution. I thank you, and your posterity will, too!
Sincerely,
Nicholas Stix
P.S.: Later, I found the following email from 9:34 p.m., in my pc's inbox.
-----Original Message-----
From: Twitter <password@twitter.com>
To: Nicholas Stix <Add1dda@aol.com>
Sent: Tue, Jan 29, 2019 9:34 pm
Subject: For security purposes, your Twitter account has been locked.
| | | | | |
| --- | --- | --- | --- | --- |
| | | | Hi Nicholas Stix, | |
Your account may have been compromised by a website or service not associated with Twitter.
We've locked your account @NicholasStix to keep it safe. In order to log back in, you must change your password.

How do I know an email is from Twitter?
Links in this email will start with "https://" and contain "twitter.com." Your browser will also display a padlock icon to let you know a site is secure.
Re-posted by Nicholas Stix
Heartbreaking... This isn't in New York, this isn't in California, this happened just this week right here in Virginia. @VAHouseDems proposed legislation to provide abortions up to just seconds before that precious child takes their first breath. Watch for yourself. pic.twitter.com/AxgPVyI6kU

— VA House GOP (@vahousegop) January 29, 2019
Alexandria Ocasio-Cortez
By dirkdiggler404
Tuesday, January 29, 2019 at 9:03:00 A.M. EST
I always see your recommendations on the noir film genre but don't really have much knowledge about them. If you could recommend your top three I would surely appreciate it. In return I shall give you my top three commercial recommendations that I find humorous or clever:
1. ATT: "Stay in your lane, bro";
2. Geico: "Humpday"; and
3. The Dollar Shave Club (set to a Sammy Davis Jr. song, I think).
As an aside, I've expressed my expertise to you once before on the subject, but I must confess that I think Alexandria Occasional-Cortex has a pretty sweet rack that almost absolves her of her shortcomings.
GEICO Hump Day Camel Commercial: Happier than a Camel on Wednesday
Stay in Your Lane (Not Sure if This is the One; Language Alert)
INSURANCE Ft. Tyrese - By@TopRopeZeus
DollarShaveClub.com - Our Blades Are F***ing Great (L---uage Alert)
By Nicholas
Tuesday, January 29, 2019 at 11:18:00 P.M. EST
1.
The Maltese Falcon
(1941 version, starring Bogie): The father of Film Noir;
2.
Double Indemnity
(1944): Billy Wilder's hard-boiled version of James M. Cain's novel, starring Fred McMurray, playing gloriously against type, and Barbara Stanwyck; and
3. If
The Third Man
counts (1949?) as film noir, then it is definitely #3, even though it is ahead of both the previous pictures (#10) on my list of the greatest movies of all time. (There's no femme fatale, but it is on lists of the greatest films noir.) It stars Joseph Cotten as a down-on-his-luck pulp fiction writer who visits an old friend in Vienna who had offered him a job, only to find the friend dead, and the postwar city full of shady characters claiming to have been his dear friends.
Re TV commercials: I've heard the phrase, "Stay in your lane," but am not sure if I saw the ad. "The dollar shave club" spot doesn't ring a bell. GEICO's "Humpday" spot, however, is Hall of Fame stuff. Larsonesque, in taking a metaphor and making it concrete. GEICO ran it the other day. I recognized it immediately with the sound off.
If comedy still lives in America, it is in TV commercials!
As for your other observation, as a longtime scholar on the subject, I agree.
Just a day or two ago, I told my family that if a female politician is physically attractive, I cannot counter her arguments!
By Reader-Researcher R.C.
Tue, Jan 29, 2019 10:02 p.m.
EXCLUSIVE: Calif. board of trustees scraps Pledge of Allegiance over "white nationalism" history
https://www.campusreform.org/?ID=11805
Incrementalism.
The commies excelled at this.
[N.S.: They still do, only the increments come faster these days.]
Next up: Independence Day
[N.S.: And after that, as Sam Francis predicted in 2000, the stars-and-stripes will be on the chopping block.]
Tuesday, January 29, 2019
By Reader-Researcher R.C.
Tue, Jan 29, 2019 10:19 p.m.
A former stripper turned regional sales director for Insys Therapeutics Inc gave a doctor a lap dance during negotiations persuading him to prescribe an addictive fentanyl spray, a court heard today.
Insys Exec Gave Doctor Lap Dance Promoting Drug, Witness Says
R.C.: This sounds like an episode of
The Simpsons
, but with real consequences.
The Simspons-Hi Dr.Nick! / Neglected food prymaid
By Reader-Researcher R.C.

Tue, Jan 29, 2019 10:53 p.m.
Breaking: Top Defense Official Testifies Trump Does Not Need Congress or National Emergency to Build Border Wall (VIDEO)


By David in TN
Tuesday, January 29, 2019 at 7:37:00 P.M. EST
Here is the Knoxville News Sentinel story
on Monday's session by Matt Lakin.
Our ex-friend Jamie "I am the Queen of Crime Writing" Satterfield was covering another trial.
"Monday marked the start of hearings set to last through much of the week as lawyers for Lemaricus Davidson seek to convince Senior judge Walter Kurtz that Davidson's 2009 trial was flawed and that the jury's verdict should be thrown out."
We were told at the time that since the defense insisted on a Knox County jury, they couldn't later appeal on the issue of getting an outside jury. Well, they are appealing on "change of venue jury," anyway.
From Monday's testimony: Davidson and his lawyers believed it would be impossible to get an "impartial" jury from the Knox County pool. Defense attorney Doug Trant testified "I told Lemaricus if we got a jury from Mars, and if they believed what the prosecutors said he did, they would give him the death penalty."
[N.S.: Didn't Doug Trant just contradict the basis for a "change of venue jury"?]
The defense hoped it would be impossible to "find a dozen impartial jurors in Knox County - and secretly hoped not to, Trant suggested."
"I told (Davidson) if we were not able to seat a jury, he could not be convicted," Trant testified.
Davidson's lawyers hoped jury selection would be "interminable." The prosecution would be forced to offer Davidson a plea deal on a reduced charge. Then Knox County District Attorney General offered Davidson a guilty plea to "Life Without Parole," taking the death penalty off the table.
Davidson supposedly said he preferred death to life in prison.
After the trial ended up with a guilty verdict and death sentence, Davidson had "regrets."
"I remember when he got the death sentence, he cried," Trant said. "He said it was one thing to anticipate a death sentence and another to actually get it."
Surprise, surprise.
Trant also testified it was common knowledge among the Knox County legal community that the late Judge Richard Baumgartner was a heavy drug user.
Tuesday's session was more of the same
.
The other defense attorney, David Eldridge, claimed the victim's families "helped fuel a mob atmosphere by being visibly emotional during the trial."
Although Jamie wasn't present, during the day she tweeted: "I wouldn't worry too much about this phase of Davidson's appeal. Post conviction appeals are rarely successful."
N.S.: Considering how untrustworthy Jamie has proved herself to be, that tweet gives me little solace.
By Jerry PDX
Tuesday, January 29, 2019 at 2:01:00 P.M. EST
One has to wonder how a lawyer could make the claim that the Knoxville horror case has gotten "too much publicity" with a straight face. How anybody could not feel their intelligence is being insulted by something so absurd?
Go out on the street right now and ask anybody, who does not live in the geographic region where the crime occurred if they know the names
"Channon Christian" and "Christopher Newsom"? Guarantee 99% will not know them. But 99% will know that the Covington kids are a bunch of racist punks. The Media have made sure of that.
Tue, Jan 29, 2019 7:47 p.m.
The friend who sent me this writes: "Until I rec'd this important brief from the NAACP, I had never heard of Jussie Smollett. Goes to show how out of the loop I am."
N.S.: Likewise.
From: NAACP Communications
Sent:
Tuesday, January 29, 2019 7:21 P.M.
Subject:
NAACP Statement on Racist and Homophobic Attack on Jussie Smollett
FOR IMMEDIATE RELEASE
"The recent racist and homophobic attack on acclaimed actor and activist Jussie Smollett is troubling. The rise in hate crimes is directly linked to President Donald J. Trump's racist and xenophobic rhetoric. It is dangerous for any society to allow a tone of divisiveness and hatred to dominate the political discourse. As this rhetoric continues to bleed into our everyday lives, dangerous behavior will continue to place many law-abiding individuals at risk. We pray for a full physical and mental recovery Jussie Smollett and many unnamed victims of this forum of hate based terrorism" Derrick Johnson, NAACP President and CEO.
Re-posted by Nicholas Stix
Heartbreaking... This isn't in New York, this isn't in California, this happened just this week right here in Virginia. @VAHouseDems proposed legislation to provide abortions up to just seconds before that precious child takes their first breath. Watch for yourself. pic.twitter.com/AxgPVyI6kU

— VA House GOP (@vahousegop) January 29, 2019
By David in TN
Tuesday, January 29, 2019 at 12:59:00 A.M. EST
Today (Monday) was the first day
of hearings for convicted Knoxville Horror killer Lemaricus Davidson's
attempt to overturn his death sentence.
His lawyers raised a few arguments. They complain Davidson's trial got too much national publicity. When has it been on
ABC 20/20
,
NBC Nightline
,
CBS 48 Hours
? Answer, none.
One of his trial attorneys, Doug Trant, testified Davidson was offered a plea deal of "Life Without Parole," but Davidson insisted on going to trial.
Davidson's lawyers wanted to "point the finger at Eric Boyd" but were unable to. It was admitted at the trial that Davidson was of sound mind and knew what he was doing.
The hearing will continue tomorrow (Tuesday).
Monday, January 28, 2019
By David in TN
Sun, Jan 27, 2019 12:58 a.m.

TCM's Film Noir of the Week goes on a month long hiatus in February, during TCM's 31 Days of Oscar.

Tomorrow night, Sunday, January 27, TCM will have a special Noir Double feature. At 8 p.m. ET. Act of Violence (1949), and at 9:45 pm ET, In a Lonely Place.

Our friend Eddie Muller will take Ben Mankiewicz's place as host for these two films. Act of Violence stars Van Heflin as a former bomber pilot with a dark secret, directed by Fred Zinneman. In a Lonely Place stars Humphrey Bogart. This film is notable for Bogart playing the character most like his real life self he ever played.

Eddie Muller has said In a Lonely Place is his favorite film noir.



By A Texas Reader
Mon, Jan 28, 2019 9:32 a.m.
As a nation, we shouldn't erect barriers to obtaining the most accurate census count possible. That's why we applaud a federal judge's ruling to block the Trump administration from adding a citizenship question to the 2020 census form.
A citizenship question on the next census form could cost Texas dearly | Editorials | Dallas News
In the current political climate over immigration, the citizenship question is a self-defeating hurdle to obtaining an accurate count. The risk is that this question could cause people to refuse ...
www.dallasnews.com
ATR: How can the clowns at the Morning Snooze mention "nation" without talking about race?
What nation?
La Raza?
By Prince George's County Ex-Pat

Sun, Jan 27, 2019 7:27 p.m.
According to The Washington Post, Aitcheson, then a 23-year-old student at the University of Maryland, was charged in several cross burnings in Prince George's County in 1977.
After the events in Charlottesville, a Virginia priest wrote an editorial Monday on how he turned to a life of faith after leaving the Ku Klux Klan. Then he decided to step down from his position in the church."The images from Charlottesville brought back memories of a bleak period in my life that I would have preferred to forget," wrote ...

ktla.com
Well, at least he's not molesting little boys....
By Jesse Mossman
Sun, Jan 27, 2019 8:17 p.m.
We all know the nursery rhyme (well maybe not the current generation of vidiots who know nothing but video games):
Rich Man
, Poor Man,
Beggar Man,
Thief
,
Doctor,
Lawyer
,
Indian Chief
.
Elizabeth Warren was a
Lawyer
who claimed to be an
Indian
. Her claim helped her get a job at Harvard and made her a
Rich
woman (at least compared to most Americans, her Harvard salary was outrageously high--
"..when Warren was a professor at Harvard University, she was paid nearly $400,000 to teach a single class."
).
Now she is going for
Thief
. She doesn't just want just high taxes,
she wants to actually confiscate (i.e. STEAL) wealth
. Of course, the wealth she wants to confiscate starts at a higher figure than her own considerable fortune (14 million dollars?).
I'm sure this sounds like a great idea to all the young socialists who are ignorant of history.
By Reader-Researcher R.C.
Sun, Jan 27, 2019 10:17 p.m.
Teacher Put on Leave After '#HitlerYouth' Tweets About Covington Controversy Man who complained about teacher to school board escorted out by security
Teacher Put on Leave After '#HitlerYouth' Tweets About Covington Controversy - freebeacon.com
A school teacher and union leader in Colorado has been put on leave for calling a Covington Catholic student a member of the Hitler Youth, and a resident who criticized the teacher was escorted ...
freebeacon.com
Above and below: Murder victim Karyn Gail Hearn Slover, 27 Oct 1972-Sept 27, 1996
Re-posted by Nicholas Stix
Restored and updated at 1:11 a.m., on Saturday, May 23, 2020
Forensic Files - Season 11, Ep 8: "Concrete Alibi": Narrated by the Late, Great, Peter Thomas (June 28, 1924 – April 30, 2016)
Border Reiver 6 months ago (edited)
Imagine being the cop who went to look at that garbage bag and finds a head....would give you the heebie-jeebies....
The murder of Karyn Hearn Slover occurred on September 27, 1996, in Decatur, Illinois, when Karyn Slover, a 23-year-old mother of one, disappeared shortly after leaving her job as an advertising sales representative.
Two days later, authorities discovered Karyn's dismembered remains, wrapped in plastic bags, in and near Lake Shelbyville. Bet these vile bastards never thought they would get caught by dog hairs and a button and rivet off her jeans...and the concrete from their own yard...
In 2002, Karyn's ex-husband, Michael Slover Jr., his mother Jeannette Slover, and his father Michael Slover Sr. were convicted of Karyn Slover's murder, and all three were sentenced to 60 years in prison.
The case is notable for being one of the first instances of dog DNA used as evidence in a murder trial.
Karyn's autopsy revealed that Karyn had been shot seven times in the head and dismembered using a power saw before, being placed into the plastic bags that were telling [?] sealed using duct tape.
A break in the case came in 1998, when police noticed that broken concrete at Miracle Motors, a business owned by Karyn's ex-father-in-law Michael Slover Sr., were similar to concrete blocks used to weigh down Karyn's body.
A forensic geologist was brought in to see if anything on the Slovers' business matched evidence found at the scene of the crime. The geologist found that not only was the concrete consistent with that found at Miracle Motors, but that evidence found in the abandoned car was also likely from the Slovers' business.
The task force sifted through dirt at Miracle Motors and eventually discovered a metal rivet and a plastic button that fit a pair of Paris Club jeans and a white shirt that Karyn had been wearing the day of her murder. Police also reported finding bones at the scene, but these were not introduced at trial, and were believed to have been animal meat bones that came from food fed to two dogs that Slover used to secure the property.
Police then began to suspect that Michael Slover Sr. and his wife Jeannette had performed the murder over custody issues, as Karyn had expressed interest in moving away to pursue her modeling career and take her son Kolten with her. Before arresting the Slovers, the investigators had a veterinary geneticist perform DNA analysis on the animal hairs found on the duct tape, which was matched to hairs retrieved from an animal brush that had been used on the dogs Slover kept on his business property. The police used this evidence to arrest the Slovers, which would be later thrown out during an appeals process by the Slovers.
In January 2000, Michael and Jeannette Slover and their son Michael Slover Jr. were arrested and charged with first-degree murder; Michael Sr. and Michael Jr. were each given the additional charge of attempting to conceal a crime. Michael Jr. had been at work, which was confirmed, but he had repeatedly called his parents that day, which made him a suspect in concealing the crime. On May 18, 2002, the three Slovers were all found guilty of first-degree murder and were later sentenced to 60 years in prison, with both Michael Jr. and his father receiving an extra five years for the charge of concealing a crime.
The following year in August 2003, there were concerns raised over the custody of Karyn's son Kolten, who had been adopted by Mary Slover, Karyn's former sister-in-law. Authorities argued that Mary had been aware of the murder and could have potentially helped in concealing the crime. A judge later ruled that Mary was unfit as an adoptive parent, and that she should not retain custody. Mary contested the ruling, which she claimed influenced a caseworker to change her report, which initially contained a recommendation that Kolten be returned to Mary. Despite this, Mary Slover officially lost custody of Kolten in October 2003. Kolten was later raised by his maternal grandparents, Larry and Donna Hearn, of Mt. Zion, Illinois.
Karyn Hearn Slover's ex-husband and parents were all convicted of first-degree murder on May 17, 2002. However, Michael Slover Sr. and Michael Slover Jr. were each sentenced to only 65 years, and Jeannette Slover was sentenced to a mere 60 years. And since these were state sentences, each killer will only do from one-third to one-half of his sentence.
A Decatur (IL) Herald-Review report from 2014
, on the Slovers' machinations.
The killers demanded and got a court order permitting DNA testing, where in 1998, police had only engaged in fingerprint testing. (Advanced DNA testing reportedly was not then available.)
This ruse was to try—with the help of the murderer's best friend, "The Innocence Project"—and get an undeserved re-trial, at which they would hope for at least one stupid or evil juror who would hang the jury, and at most 12 fools who would fall for "reasonable doubt," and spring them. (Or several fools and/or evilists who would wear down and intimidate one reasonable juror after another, until they all voted to acquit.) Next thing you know, the killers would be suing the state of Illinois for millions for "false imprisonment." (See "The Central Park Five.")
Jeannette Slover
Michael Slover Sr.
Michael Slover Jr.
By David in TN
Monday, January 28, 2019 at 12:09:00 A.M. EST
Updated and corrected at 7:28 a.m., Monday, January 28, 2019
Tomorrow, Monday January 28 [i.e., later today], Lemaricus Davidson, "alleged" ringleader,
will appear in a Knoxville courtroom
. Why? He's trying to get his death sentence reduced to "life."
N.S.: David's scare quotes are because Davidson's next step would be to get paroled.
By A Texas Reader
Sat, Jan 26, 2019 4:57 p.m.
UK paper pays damages to Melania Trump over false report Britain's Telegraph newspaper said Saturday that it apologizes "unreservedly."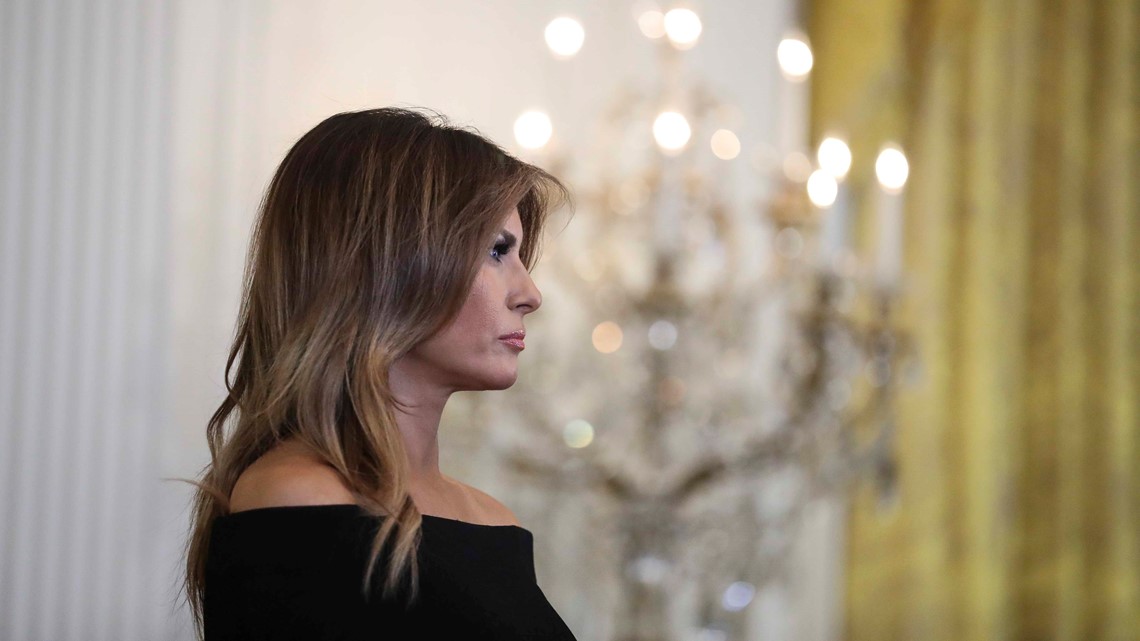 UK paper pays damages to Melania Trump over false report | wfaa.com
LONDON, UK — Britain's Telegraph newspaper has apologized and paid "substantial damages" to U.S. First Lady Melania Trump after publishing an article it says contains many false statements. The ...
www.wfaa.com
By Prince George's County Ex-Pat
Sat, Jan 26, 2019 8:57 p.m.
12 immigrant [sic] workers at Trump golf course fired, lawyer says
12 immigrant [sic] workers at Trump golf course fired, lawyer says | WTOP
NEW YORK (AP) — A lawyer for a dozen workers at one of President Donald Trump's golf clubs in New York who are in the United States illegally says they were fired this month even though ...
wtop.com
PGCE-P: Ya gotta start somewhere.
Sunday, January 27, 2019
By Reader-Researcher R.C.
Sat, Jan 26, 2019 9:06 p.m.
More systemic corruption in D.C.: Top FDA Official Blows Whistle as Agency Approves Drug 10X Worse than Fentanyl, Funded by DoD
Top FDA Official Blows Whistle as Agency Approves Drug 10X Worse Than Fentanyl, Funded by DoD
Dr. Raeford Brown, who is chair of the FDA's committee to review various opioid based drugs before approving them, blew the whistle in an interview with the Guardian this week.. Brown told the Guardian that there is a "war" inside the FDA in regard to approving opioids.