Re-posted by Nicholas Stix
Racist Trump Deports White Man, But Lets Hispanic Woman Stay
By Federale
July 7, 2017
http://federaleagent86.blogspot.com/
Not certain what is going on with the Trump Administration. Recently a high profile illegal alien was deported. The press and politicians were screaming for his protection, but the Trump Administration held firm, and John Cunningham was deported. Kudos to U.S. Immigration and Customs Enforcement Enforcement and Removal Operations (ICE ERO).
A prominent Boston man nabbed by ICE last month for overstaying his visa by more than a decade has been sent back to Ireland, and the city's Irish community is still worried about further deportations, an advocate said.
John Cunningham, 38, was a Brighton-based electrical contractor and chairman of the Gaelic Athletic Association before he was detained June 16 for overstaying a 90-day visa that he used to enter the U.S. in 2003. Cunningham left on a commercial flight Wednesday night, according to Immigration and Customs Enforcement spokesman Shawn Neudauer.
[Boston's Irish Community On Edge After Contractor Is Deported, by Dan Atkinson and Brian Dowling, Boston Herald, July 07, 2017]
John Cunningham, Deported White Wetback
Cunningham entered on the Visa Waiver Program (
VWP
), a legal means for certain aliens from certain countries to enter the United States for business or tourism for 90 days without obtaining a non-immigrant visa, and that program prohibits those aliens who use it from any appeals system in deportation cases. Cunningham was unceremoniously removed with no appeals, and as it should be, because that is what the law says. There was a great hew and cry after his arrest, but he was soon deported. The real question is why has the Trump Administration continuously released illegal aliens who are not white like John Cunningham, even those aliens who entered on the VWP and are subject to deportation without appeal?
Case in point, the, dare I say White,
Hispanic Lesbian Daniela Vargas
. who entered the United States on the VWP, was arrested by ICE ERO, but eventually released. She was not deported like Cunningham was. Why not? Is there
a double standard for Hispanics and other non-Whites
who violate immigration law or the terms of the VWP?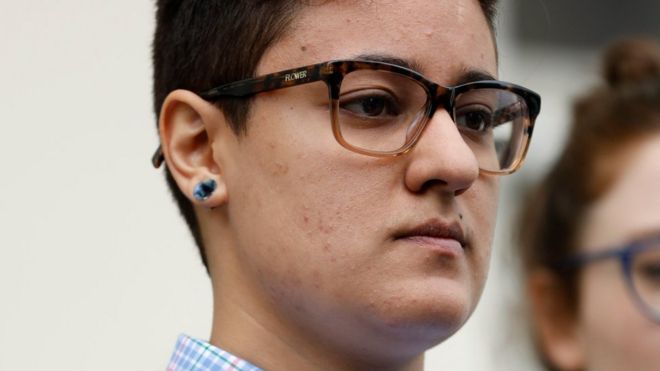 Angry Lesbian Hispanic Wetback Daniela Vargas Not Deported
Or is it that the Trump Administration is slowly getting tougher on illegal aliens? I hope it is the later, as this story shows:
President Donald Trump and Attorney General Jeff Sessions reversed lax immigration prosecution measures put in place by former President Obama.
Under Operation Streamline, a fast-track prosecution program for illegal alien border-crossers will seek criminal prosecution for first-time border-crossers.
During the Obama years, only repeat border-crossers were prosecuted as criminals under Operation Streamline.
Now, the Departments of Homeland Security and Justice seek to deter first-time illegal crossers.
[Trump Reinstates Criminal Prosecution For First-Time Border-Crossers, by John Binder, Breitbart, July 5, 2017]
Time for Trump to go whole hog on immigration enforcement. As his success in the campaign against #FakeNews and CNN is successful, RussiaGate fall apart, and his
Alt-Right speech in Poland
, he has inoculated himself against attacks by the media if he ends the Deferred Action For Childhood Arrivals (DACA) program. It was more than likely the possibility of bad PR was the major reason that Trump did not end DACA immediately, and the pernicious influence from certain quarters of course. It was just too big an issue. But now with the
Meme Wars
going well and the bias of the media showing, he has an opening. Time to end DACA! Si Tu Puede!
Posted by
Federale Federale
at
6:53 P.M.