Killed: Roger Pratt, pictured with wife Margaret [This picture is from the British
Daily Mirror
;
ABC News
refused to publish any pictures, and I couldn't find any pictures of the suspects.]
Re-posted by Nicholas Stix
The World Factbook
on St. Lucia.
Comment from
ABC News
:
Scamuel
St. Lucia has become as bad as Aruba for the murder of tourists! Best advice would be to avoid the whole damn Caribbean bunch of islands which are apparently inhabited by nothing but a bunch of savages!
Wednesday, January 22, 2014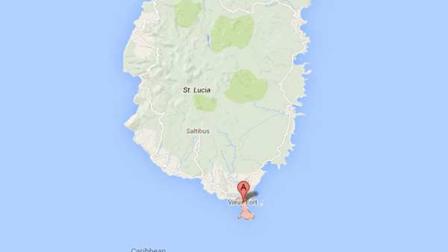 Vieux Fort, St. Lucia

January 22, 2014 (CASTRIES, St. Lucia) --
An autopsy found that a British man attacked aboard his yacht anchored in St. Lucia died from asphyxia as a result of being beaten, police said Tuesday.
Authorities said five suspects were in custody and would be charged at a later date. They did not specify when.
The killing of 62-year-old Roger Pratt late Friday surprised many people and raised questions about safety on this island in the eastern Caribbean. His wife, Margaret Pratt, also was beaten and was treated at a hospital for cuts and bruises.
Police said Pratt found her husband's body floating in the water minutes after the attackers fled. She said her husband was not shot, contrary to some media reports.
"There were no knives, no guns, although of course, considerable violence in the attack," Pratt said in a brief interview distributed by the government information service. "We've not felt unsafe in St. Lucia until the events of those final tragic minutes, and have had considerable kindness from very many people."
Police Commissioner Vernon Francois said the Pratts apparently heard noises outside the yacht and were attacked when they went to investigate. He said the attackers demanded money and other items and had used a stolen small boat to get to the yacht.
The Warwickshire couple had been traveling aboard their yacht, the Magnetic Attraction, since June to celebrate her 60th birthday. The attack occurred while the yacht was anchored off the southern town of Vieux Fort.
Pratt said the couple had been in St. Lucia for nearly three weeks and were preparing to leave for Bequia, an island that is part of St. Vincent and the Grenadines.

Chester Nathoniel, part-owner of Action Adventure Divers, said in a phone interview Tuesday with The Associated Press that he met the couple on Jan. 14 and took them diving twice.
"They were quite lovely people," he said. "It is really, really sad news. ... We've had some incidents in the past. It's not something that happens regularly, but it shouldn't happen in the first place."
"I remember telling my wife about the two of them," he added. "I told her, 'I wish we could be like that when we grow up.' They were happy together."
The St. Lucia Tourist Board issued a statement Tuesday saying the prime minister and other high-ranking officials had met with the victim's wife.
"As a country, we collectively condemn this random and heinous act of violence," the board said.
St. Lucia, an island of about 163,000 people, has seen an increase in violent crimes that authorities blame on drug trafficking. However, police reported 34 killings last year, the lowest in four years.