By A.L.
Fri, Dec 6, 2019 12:50 p.m.
Ten years in the joint. Then ten months out. And now this. And in Iowa. They are everywhere.
black) Longtime felon is charged with murder of (White female) bank employee in northern Iowa
Then years in the joint.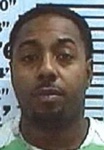 LU VERNE, Ia. — A man who had been in state custody for nearly a decade before his release 10 months ago has been charged with murder in a Wednesday bank robbery and shooting.
Valentino Williams
, 35, of Coralville, is charged with first-degree murder and first-degree robbery in Kossuth County District Court. Around 8:40 a.m. Wednesday, authorities responded to calls of shots fired at Security State Bank in Lu Verne, a town of about 260 in north-central Iowa.